Fanvil C600 Android Color IP Video Phone
Fanvil C600 Android Color IP Video Phone
Κατασκευαστής:
Fanvil
Κωδικός Προϊόντος:
FNVL-0019
Διαθεσιμότητα:
Please Login
Fanvil C600 smart Android IP Video Phone. Suitable for small to large size businesses as well as for mission-critical Enterprise Business. Compact design & intelligent software suite, 7 inch (800x480) capacitive LCD color touch-screen, HD Voice Quality & up to 720P HD Video Configuration. Equipped with Quad Cores CPU, 1GHz, 1Gb Ram & 4Gb Flash, the C600 provides complete desk phone solutions, flexible functionality & highly easy operation, broadening the IP phone deploiment.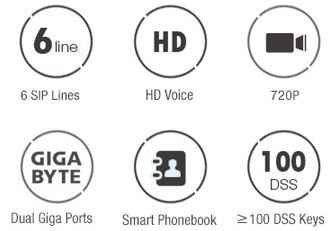 Key Features & Benefits:
Android 4.2.2 OS
7 inch (800x480) capacitive LCD color touch-screen
6 SIP Lines, Built-in Megapixel Camera
HD Voice & HD Video Quality
Remote site video in full screen display
Full Programmable DSS Keys & Soft Function Keys
Up to 140 Stations DSS Support
2 Gigabit ports, POE Enabled
HDMI port: Type A for audio & video output
2 x USB 2.0 Ports: Mini-B for Flash Drive connection & Standard A for Bluetooth Headset via the optional USB Dongle BT20
TF card slot: supports up to 32G TF Card (TF Card not included)
Handset / Hands-free / Headset mode
On Line Recording & Message Forwarding
Call Conference Enhancement
Flexible Dial Plan with Auto Provision
Local Phonebook (1000 entries)
Remote Phonebook (XML/LDAP, 1000 entries)
Call logs (in/out/missed, 1000 entries)
Black/White List Call Filtering, Screen saver, Voice Message Waiting Indication (VMWI)
Network Time Synchronization, local call recording & server recording Support
Action URL / Active URI, uaCSTA
High Interoperability – Compatible with major platforms: 3CX, Asterisk, Broadsoft, Elastix, Zycoo, etc.
Desktop / Wall-mount installation
1 Year Warranty

PartnerNET Fanvil C400-600 Datasheet
Call Features:
Call out / Answer / Reject
Mute / Unmute (microphone)
Call Hold / Resume
Call Waiting, Intercom, Caller ID Display
Speed Dial, Anonymous Call (Hide Caller ID)
Call Forwarding (Always/Busy/No Answer)
Call Transfer (Attended/Unattended)
Call Parking/Pick-up (depending on server)
Redial, Do-Not-Disturb, Auto-Answering
Voice Message (on server)
3-way Conference, Hot Line
Video:
Video CODEC: H.263/H.264
Image format: JPEG/PNG/BMP/GIF
Video format: MP4/3GP/FLV
Bandwidth selection: 64kbps~4Mbps
Frame rate selection: 10~30fps
Picture-in-Picture (PIP)
Audio:
HD Voice Microphone/Speaker (Handset/Hands-free, 0~7KHz Frequency Response)
Wide band ADC/DAC 16KHz Sampling
Audio format: WAV/MP3/OGG
Narrowband CODEC: G.711a/u, G.723.1, G.729AB, AMR, iLBC
Wide band CODEC: G.722
Full-duplex Acoustic Echo Canceller (AEC)
Voice Activity Detection (VAD) / Comfort Noise Generation (CNG)
Background Noise Estimation (BNE) / Noise Reduction (NR)
Packet Loss Concealment (PLC)
Dynamic Adaptive Jitter Buffer
DTMF: In-band, Out-of-Band – DTMF-Relay(RFC2833) / SIP INFO
Networking:
Physical: 10/100/1000 Mbps Ethernet, dual bridged port for PC bypass
IP Configuration: Static / DHCP / PPPoE
Network Access Control: 802.1x
VPN: L2TP / PPTP
VLAN, LLDP, MD5 authentication, QoS
Protocols:
SIP2.0 over UDP/TCP/TLS
RTP/RTCP/SRTP
STUN, DHCP, LLDP, PPPoE, 802.1x, L2TP
OpenVPN
SNTP, FTP/TFTP, HTTP/HTTPS, TR-069
Deployment & Maintenance:
Auto-Provisioning via FTP/TFTP/HTTP/HTTPS/DHCP OPT66/SIP PnP/TR-069
Web Management Portal
Supports third party communication APP
Supports Web, Telnet
Supports encrypted configuration files download with AES
Supports U Disk/Web upgrade
Supports backup/restore/factory reset data
Package Contents:
Fanvil C600 Android Color IP Video Phone
HD Handset
RJ9 Spiral Cord
1.5M CAT5 Ethernet Cable
Desktop / Wall-mount Stand
Please Note:
The External Power Supply Unit, EU PSU DC input 12V-1A output, is not included in the package, please order separately.
Χαρακτηριστικά
Κατασκευαστής
Fanvil
Τύπος Προϊόντος
IP Video Phone
SIP Λογαριασμοί
6
Android
ΝΑΙ
Video Κλήση
ΝΑΙ
HD Audio
ΝΑΙ
Οθόνη Αφής
ΝΑΙ
Οθόνη
Color
USB
ΝΑΙ
Τύπος Κάμερας
Megapixel
Bluetooth
Προαιρετικό
Ethernet Port
Gigabit
Headset Port
RJ9
Wi-Fi
ΟΧΙ
Επεκτάσιμο
ΟΧΙ
POE
ΝΑΙ
SD Card Interface
ΝΑΙ
HDMI Out
ΝΑΙ
Εγγύηση
1 Χρόνο